Hey!! So today i got my interview letter for the fashion course at York College, so now im really busy making stuff for my portfolio. So i'm trying so hard to get in because i wanna go there so bad! Anyways i really didnt think about what i was going to talk about in this blog, so im kinda blabbering on…
My last blog was all about alice in wonderland so last Saturday me and my friend Ocean went to York to see it in 3D. It was pretty good! The cheshire cat came out and it was cool teehee! Johnny Depps' performance was amazing and i just loved how he portrayed the mad hatter.
When i was in York i bought this gorgeous necklace from Accessorize, it had a 'I Love NYC' charm and a statue of liberty charm 🙂 i also bought some topshop socks in the sale for £1!
My prom is in June and im totally gutted because i got a posh kind of dress last year and now its in the sale for like £18 and here it is: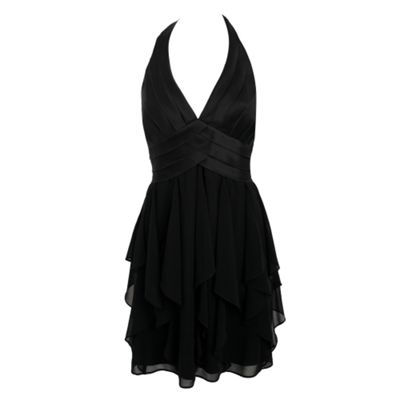 So its a black chiffon halter neck, i really dont know weather im going to wear it though. I've seen a dress from Henry Holland's collection at Debanhams that i like. I'm not gunna go all proper prom/ball gown though. If i do go in the black halter neck i'd have my hair curly, but yeah i have no idea atm. I really need to sort prom out, we have no car or anything! Anywhos, comment on what you think of the black dress 🙂
Picture from Debenhams.com